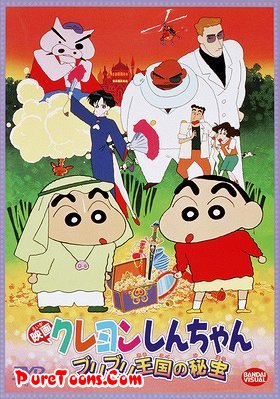 Movie Name: Shin Chan in Treasures Of the Buri Buri Kingdom
Release Year: April 23, 1994
Language: Hindi
Duration: 1 hour 30 minutes
Quality: Blueray
Summary: Shin-chan (Shinnosuke) wins in a lottery where he gets a chance to visit the Buri Buri Kingdom, in the Buri Buri island. But the real motive was to get the Power from the Buri Buri Kingdom. In their religion, it is said that when there are two people who are like twins, they can get the wealth which is hidden in the Buri Buri Kingdom.The movie starts when one boy named Sunchan (Sunnokeshi) gets kidnapped by some Buri Buri men. This was in a kingdom in the Middle East.

Download Links are Below

Download Mp4 360p (199.6 MB)
Download from LetsUpload
Download from MEGA
Direct Download
Download from 2GIGA
Download from SolidFiles
Download 240p (127.6 MB)
Download from LetsUpload
Download from MEGA
Direct Download
Download from 2GIGA
Download from SolidFiles
Download Mp4 480p (315.6 MB)
Download from LetsUpload
Download from MEGA
Direct Download
Download from 2GIGA
Download from SolidFiles