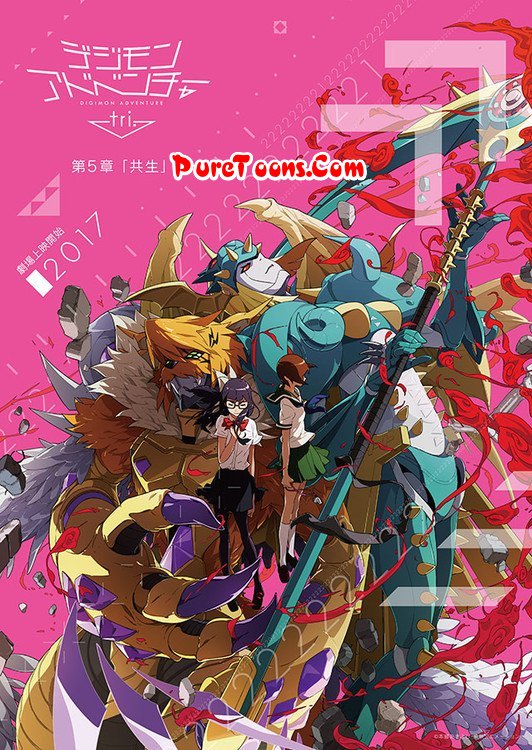 Movie Name: Digimon Adventure Tri. 5: Coexistence
Release Year: 2017
Language: Hindi
Duration: 1 hour 29 minutes
Quality: Blueray
Summary: Meicoomon rampages after witnessing Meiko Mochizuki being injured by the man bearing Gennai"s likeness. "It would have been better if you hadn"t been born…" Meicoomon disappears into the Real World, which has since become distorted. Possessing overwhelming power, she"s the key to the world"s destruction – Hackmon appears before Daigo Nishijima and Professor Mochizuki, and reveals a shocking truth: Homeostasis is trying to maintain harmony but considers Meicoomon"s power to be an existential threat to both worlds. Other Digimon begin appearing through the Distortion. The DigiDestined return to the Real World alienated by the abnormal state of the Digital World. Persecuted by the people, the DigiDestined and their partners are isolated and desperately looking for a way forward. Meanwhile, Meiko continues to bear her burdens alone, deaf to the voices of her comrades. A harsh fate then befalls the pure and sensitive, Kari Kamiya.

Download Links are Below

Download Mp4 360p (192.4 MB)
Download from SolidFiles
Download from MEGA
Direct Download
Download from 2GIGA
Download from 5 Servers
Download 240p (120.0 MB)
Download from SolidFiles
Download from MEGA
Direct Download
Download from 2GIGA
Download from 5 Servers
Download Mp4 480p (302.2 MB)
Download from SolidFiles
Download from MEGA
Direct Download
Download from 2GIGA
Download from 5 Servers