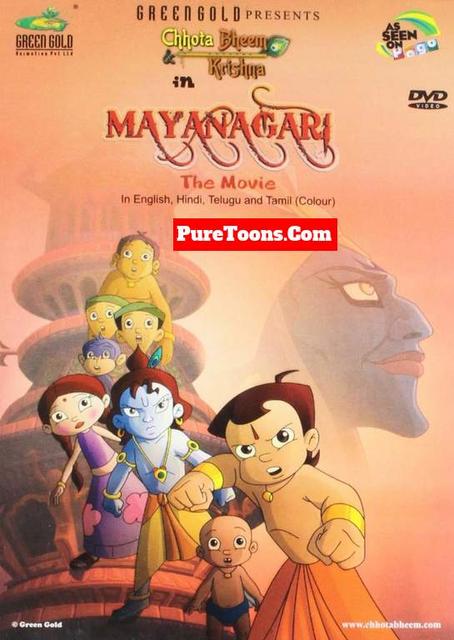 Movie Name: Chhota Bheem & Krishna in Mayanagari
Release Year: 26 October 2011
Language: Hindi
Duration: 1 hour 7 minutes
Quality: Blueray
Summary: The movie opens with Mayandri attacking Geeta, the sister of Gopu. She tries to release her brother Kirmada but fails as Lord Krishna"s power prevents him to retain his full form. Meanwhile Bheem and his Friends are having a great time in Dwarka with their friend Kanha. Mayandri tries to attack Kanha with some leopards but fails as Kanha fights them off with ease.Bheem gets injured and his friend Krishna offers to heal up his injury and just before the Dholakpurians leave, Krishna offers some gifts to them.Bheem gets a pendant, Chutki gets a stylish ring, Raju gets a catapult, Jaggu gets a compass, Kalia gets a powder that if sprinkled on someone enabled him to hear their thoughts and Dholu and Bholu gets a box in which they could ask for any food item they want. Bheem suddenly feels it was time for everyone to go back to Dholakpur and they board their ship and bid farewell to Krishna, their beloved friend.

Download Links are Below

Download Mp4 360p (149.7 MB)
Download from Openload
Download from MEGA
Download from MediaFire
Download from 2GIGA
Download from 6 More Servers
Download 240p (93.9 MB)
Download from Openload
Download from MEGA
Download from MediaFire
Download from 2GIGA
Download from 6 More Servers
Download Mp4 480p (236.5 MB)
Download from Openload
Download from MEGA
Download from MediaFire
Download from 2GIGA
Download from 6 More Servers